Endorsements
GBLC's first round of municipal endorsements for 2023 is closed. Click here to see our 2023 endorsed candidates. For any candidate that missed the deadline for consideration, we will consider endorsements again after the preliminary. 
The Greater Boston Labor Council endorses candidates that share our values and will work towards passing and upholding pro-union and progressive policies in their elected positions. Candidates seeking municipal office in any of the GBLC's cities and towns (listed at the bottom of this website page) are eligible to request the labor council's endorsement. Candidates seeking state office in our region should contact the Massachusetts AFL-CIO about endorsement. 
Endorsement process:
Email Rachael Running, GBLC Communications Organizer (rrunning@gblc.us) and Darlene Lombos, Executive Secretary-Treasurer (dlombos@gblc.us) to request endorsement.
Fill out and return a GBLC Candidate Questionnaire. Download and consider signing GBLC's Solidarity Pledge to the Labor Movement
Complete a Candidate Interview with the GBLC C.O.P.E (Committee on Political Education).
Receive the recommendation of C.O.P.E. and a 2/3 ratification vote at the General Delegate's Body.
Click below to download a flyer with more details and dates for our 2023 endorsement process and to download and sign the Candidate Pledge. 
Join us for our first Candidate Solidarity School, Wednesday, June 28th, 5:30pm at the Plumbers Local 12 Hall, 1240 Mass Ave, Dorchester. Register here.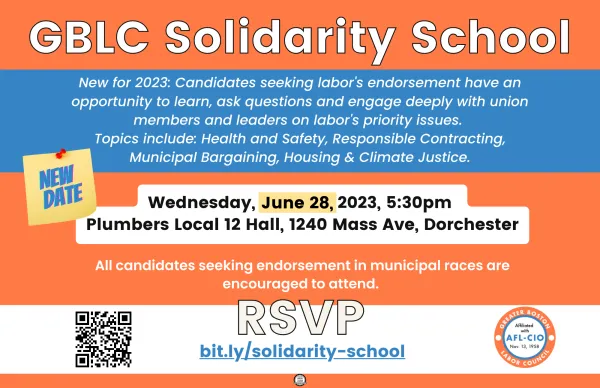 Save the date for our Summer COPE BBQ and Candidate night - all candidates, electeds and delegates welcome! RSVP here.