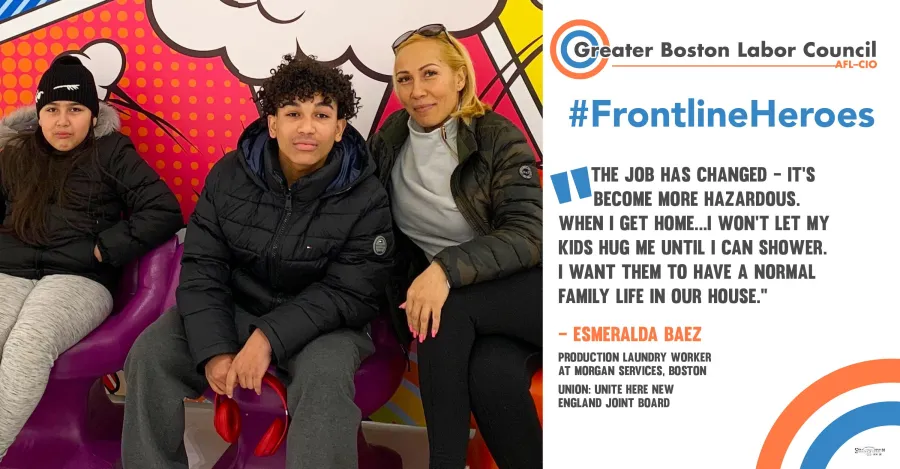 Meet Esmeralda Baez, a production worker at an industrial laundry facility in Boston and member of UNITE HERE New England Joint Board. Esmeralda shares her story from the frontlines of the COVID-19 crisis as part of the Greater Boston Labor Council's #FrontlineHeroes series. Our series profiles the work of union members and everyday heroes who are working on the frontlines during the global pandemic. Stories are updated weekly. To read other Frontline Hero stories, click here: https://gblc.us/tag/frontline-heroes.
Esmeralda Baez is an essential worker who washes biohazardous hospital linens at Morgan Services in Roxbury. She labors each day to make sure healthcare workers and patients have clean and safe linens and uniforms. The Covid-19 crisis has changed her world.
"The job has changed - it's become more hazardous. My understanding is that the gowns from the hospital we have to clean may contain some of the Covid-19 virus," Esmeralda said through an interpreter.
Esmeralda is a single mother and each morning she must leave her two children, aged 10 and 15, at their house and go into work. "Yes it's about earning our salary but it also feels good to be able to help the hospitals and provide some kind of service that's positive." Esmeralda says that making sure hospitals have clean linens for their patients may seem small "like a grain of sand" compared to what the nurses are doing, but she says, "we know this is something that is important to the community and to the hospitals and I feel good about being able to help."
Life has changed for Esmeralda's entire family since the crisis started: "It has been difficult for my children since the schools closed and they are at home all day. When I get home I have to undress in the hallway in front of the door. I won't let my kids hug me until I can shower. I want them to have a normal family life in our house."
Esmeralda has been a Production Laundry Worker at Morgan Services for 15 years and is a member of UNITE HERE New England Joint Board. As a union member she has worked to improve health and safety and has received help from her union on communication with the company during this crisis.
"I never imagined this new reality where we would see people with masks on everywhere. It's shocking and terrible. It's something for all of us to get used to but it is still a shock. We want the public to know that we are doing our part even though it's one small part and we are doing the best we can to help."