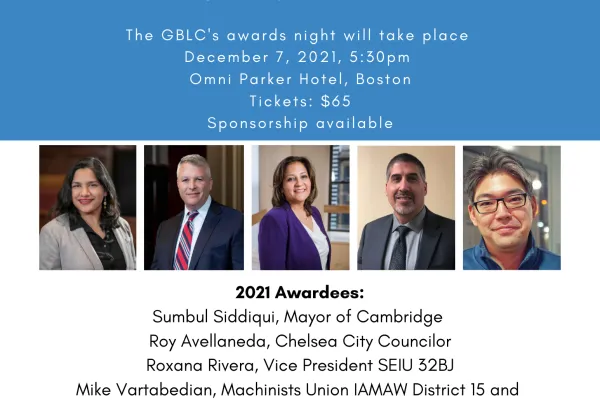 Join us to celebrate champions of the Labor Movement and all that we've achieved together during this unprecedented time. 
The GBLC's awards night will take place December 7, 2021, 5:30pm
Omni Parker Hotel, Boston 
Tickets are $65 and sponsorship is available.
2021 Awardees:
Sumbul Siddiqui, Mayor of Cambridge
Roy Avellaneda, Chelsea City Councilor
Roxana Rivera, Vice President SEIU 32BJ
Mike Vartabedian, Machinists Union IAMAW District 15 and
Lee Matsueda, Executive Director Community Labor United
RSVP to rrunning@gblc.us.
Please send payment to:
Greater Boston Labor Council
8 Beacon Street, 5th Floor, Boston MA 02108.