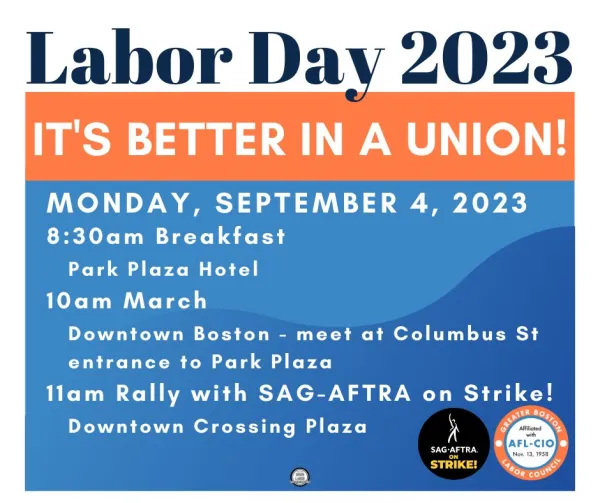 Labor Day is fast approaching and we are excited to be back together for our annual Labor Day breakfast followed by a march and rally in support of striking SAG-AFTRA workers!
See below for the schedule for this year's Labor Day Breakfast on Monday, September 4th, 8:30am at the Boston Park Plaza. 
Labor Day Schedule: 
7:30am --Doors open, coffee station upstairs in Ballroom B, Park Plaza Hotel, Boston
8:30am --Breakfast and program begin at Park Plaza Ballroom A (see below for pricing)
10am--Gather at Park Plaza Hotel (Meet at the green space by the Columbus Ave entrance) - all welcome!
10:30am--March through Downtown Boston
11am--Rally at Downtown Crossing Plaza at Washington St & Franklin St in support of SAG-AFTRA
Breakfast details and updates: 
This year as unions focus on worker-led organizing, we encourage union leadership to bring rank-and-file union members as guests at their tables, and if you are able, sponsor additional workers who are still organizing to be in a union.
Who's on the mic? Politicians and candidates are still welcome to attend, but this time workers will take to the podium to celebrate worker power!
What to wear? We suggest you dress comfortably and encourage everyone to wear your union or movement t-shirts to show solidarity.
Entrance to the breakfast is $100/ticket or $1,000/table of ten. Check with your union about seats or email Rachael. 
Contact Rachael for more information (rrunning@gblc.us).