May 18, 2020: Worker safety, not corporate profits, should drive rewrite of Massachusetts economy
Rachael Running
18 May, 2020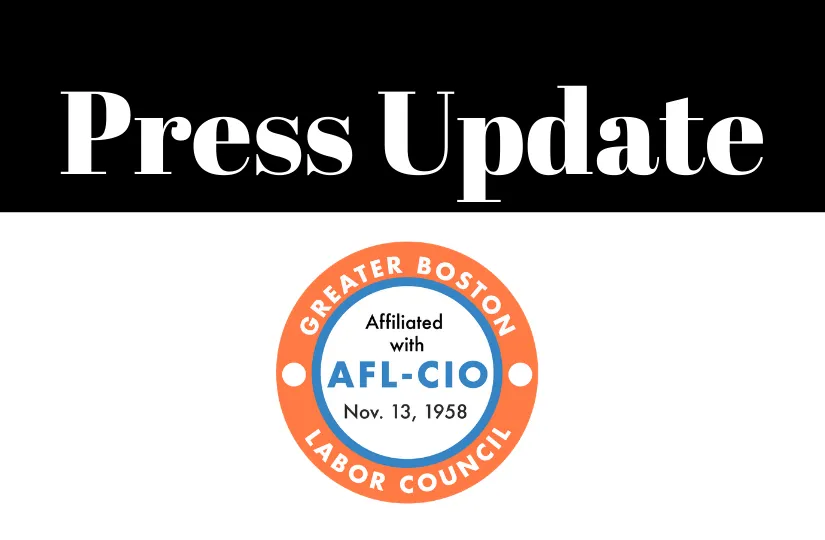 FOR IMMEDIATE RELEASE
Monday, May 18, 2020, 9:30 A.M. EDT
On behalf of the Greater Boston Labor Council
Contacts: Darlene Lombos, 857-263-0829, dolombos@gblc.us
Rachael Running, 617-763-0856, rrunning@gblc.us
Alexa Vazquez, 617-455-5474, alexa@617mediagroup.com
Worker safety, not corporate profits, should drive rewrite of Massachusetts economy
Return to "modified status quo" insufficient to protect human life, says leading labor group
"Life and death policies on workplace safety should be driven by data, science, and worker voices, not just by CEOs." - Darlene Lombos, principal officer, Greater Boston Labor Council
BOSTON, MA -- The Massachusetts economy needs a rewrite, not just a reopening, according to the leading labor group in Greater Boston. On Monday morning, labor advocates concerned with the CEO dominated board installed by Governor Baker released their own report, entitled, "Rewriting the Massachusetts Economy: A Three-part Worker Agenda to Protect Human Life". 
The labor representatives say the document offers an alternative pathway forward for the Commonwealth that will save countless lives of workers by prioritizing labor safety standards. For many, it will also serve as a litmus test for plans expected to be released by Governor Baker today.
While they were not allowed an opportunity by the Governor to review his forthcoming report, organizations representing worker interests have expressed concerns that a reopening constructed almost entirely by corporate CEOs will tilt against the interests of workers at a time when the stakes are higher than ever for workplace safety.
"Life and death policies on workplace safety should be driven by data, science, and worker voices, not just by CEOs," said Darlene Lombos, principal officer of the Greater Boston Labor Council. "It is not enough to reopen the economy through a modified status quo. We must fundamentally rewrite the Massachusetts economy in ways that move us away from the many inequities that existed before the pandemic and that have been made far worse since it began, and instead build upon the mutual aid and caring for one another that we are seeing right now."
"There is no dollar earned worth more than a human life," states the eight-page set of principles put forth by the largest labor organization in Eastern Massachusetts, known as the Greater Boston Labor Council. 

The Council represents more than 100,000 union workers in 24 cities and towns in Greater Boston, and also fights aggressively for the rights of non-union workers. Its members have been on the frontlines of essential COVID-19 services ranging from healthcare to grocery stores to transportation workers and more. 
Representatives from the Council are available for media interviews, and will be distributing their report, "Rewriting the Massachusetts Economy: A Three-Part Worker Agenda to Protect Human Life," to the media, state lawmakers, and municipal officials throughout the region.
# # #
Chartered by the National AFL-CIO, the Greater Boston Labor Council's mission is to improve the lives of working families within the 24 communities in our jurisdiction. Our goal is to build a movement of unions and workers to advocate for working family issues in city and town halls throughout Greater Boston. The Greater Boston Labor Council also seeks to reach out to progressive allies within our communities to form coalitions to advance the cause of economic justice. Through our Committee on Political Education (COPE), the Greater Boston Labor Council is actively engaged in the political process. We endorse and campaign for candidates for municipal office who are supportive of the needs of union members and working families.