Boston Labor Council Partners With Union Grocer, Quincy Stop & Shop, to Bring Food to Laid Off and Furloughed Union Members this Holiday Season
Rachael Running
18 Dec, 2020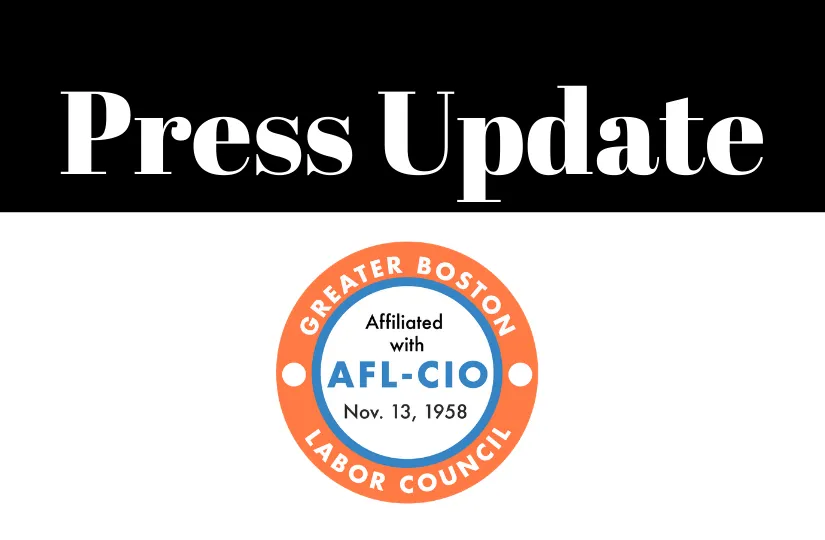 FOR IMMEDIATE RELEASE
Friday, December 18, 2020
Contact on behalf of Greater Boston Labor Council:
Rachael Running, rrunning@gblc.us or 617.763.0856
Boston Labor Council Partners With Union Grocer, Quincy Stop & Shop, to Bring Food to Laid Off and Furloughed Union Members this Holiday Season
BOSTON — On Friday, December 18th, the Greater Boston Labor Council distributed $50,000 in Stop & Shop gift cards to union members struggling through unemployment or furlough this holiday season. Since the global pandemic crisis hit, the Greater Boston Labor Council has been holding regular food drives to assist families who are facing unemployment. 
Boston area unions and their members themselves wanted to do something during the holiday season to help their sisters and brothers  in need and donated funds through the Greater Boston Labor Council, raising tens of thousands of dollars. Stop & Shop Quincy on 65 Newport Ave generously discounted gift cards in order to make these donations reach more families. 
Darlene Lombos, principal officer of the labor council said: 
"This holiday season many families are facing the most difficult days of their lives. This December we have organized our biggest food assistance drive yet and are proud to distribute food gift cards directly into the hands of union members this week. This aid will bring a moment of relief and light to several hundred Boston area union families during this holiday season."
Cards were distributed to hotel workers, stage hands, substitute teachers, airport workers, janitors, retail workers and more. The Greater Boston Labor Council was proud to partner with United Food and Commercial Workers (UFCW) union employer, Quincy Stop & Shop on this distribution. 
Stop & Shop Quincy Store Manager, Bryan Cramond and Human Resources Director, Susan Sanville worked with the Labor Council on the store's contribution. Cramond said:
"I'm proud to partner with the labor council to help union families in need. As a store manager, I know the importance of working with our union team members, and we felt it was important to step up and help those in need this holiday season."
# # #
About the Greater Boston Labor Council Chartered by the National AFL-CIO, the Greater Boston Labor Council's mission is to improve the lives of working families within the 24 communities in our jurisdiction. Our goal is to build a movement of unions and workers to advocate for working family issues in city and town halls throughout Greater Boston. The Greater Boston Labor Council also seeks to reach out to progressive allies within our communities to form coalitions to advance the cause of economic justice. Through our Committee on Political Education (COPE), the Greater Boston Labor Council is actively engaged in the political process. We endorse and campaign for candidates for municipal office who are supportive of the needs of union members and working families.