The Greater Boston Labor Council celebrates the nomination of Boston Mayor and Trade Unionist Martin J. Walsh as Labor Secretary
Rachael Running
08 Jan, 2021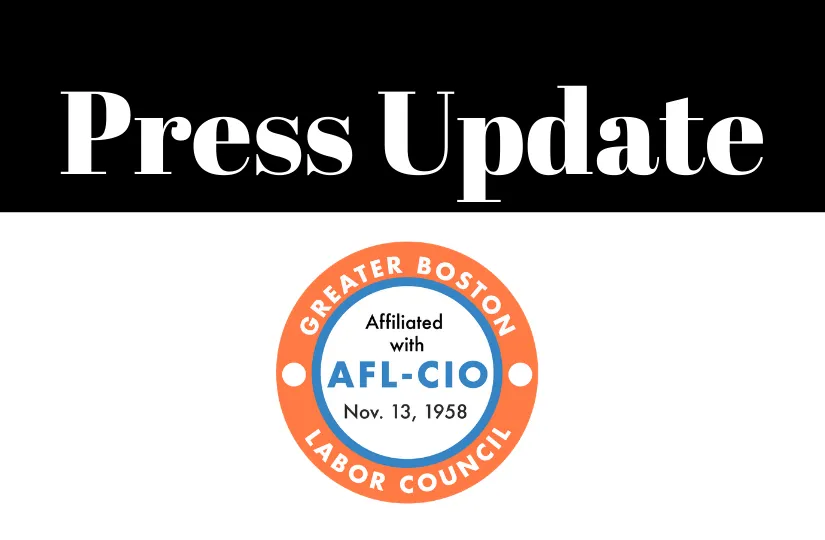 FOR IMMEDIATE RELEASE
Friday, January 8, 2021
Contacts on behalf of the Greater Boston Labor Council
Jeff Hall, 617-281-8384, Jeff@617MediaGroup.com
Rachael Running, 617-763-0856, rrunning@gblc.us 
The Greater Boston Labor Council celebrates the nomination of Boston Mayor and Trade Unionist Martin J. Walsh as Labor Secretary
BOSTON, MA - Representing more than 80,000 workers, 24 cities and towns, and dozens of affiliated unions, the Greater Boston Labor Council released a statement today celebrating the nomination by the Biden-Harris administration of Boston Mayor and union member Martin J. Walsh as the next U.S. Secretary of Labor. Walsh will be the first union member in a half century to hold the position. 
Darlene Lombos, chief officer and Executive Secretary-Treasurer of the Council, released this statement:
"Martin J. Walsh is an exceptional choice for Labor Secretary in the Biden administration. Mayor Walsh will take his union card to Washington and lead with the pro-worker values that he has so steadfastly demonstrated during his tenure as Mayor of Boston. Marty Walsh will continue to protect and expand workers' rights, improve health and safety, and be a champion for all workers.
Amidst the COVID-19 pandemic, Marty Walsh set the highest standards for worker protections in the nation and worked to support frontline workers, including funding emergency child care and other resources for essential workers to weather the pandemic. Mayor Walsh quickly established a frontline worker table and met regularly with unions representing nurses, janitors, public transit drivers as well as hotel, grocery and construction workers to respond to their urgent needs for PPE and additional safety protocols in the workplace. 
Mayor Walsh negotiated directly with banks to stop evictions during the pandemic and hired laid off workers through the Brazilian Workers Center and Chinese Progressive Association to deliver food and to provide for the city's most vulnerable families. We are eager to support Marty as he reorients the Department of Labor to focus on the rights and needs of workers and toward realizing President-Elect Biden's vision of a more inclusive, resilient and just economy that works for everyone."
-Darlene Lombos, Secretary-Treasurer, Greater Boston Labor Council
# # # 
About the Greater Boston Labor Council
Chartered by the National AFL-CIO, the Greater Boston Labor Council's mission is to improve the lives of working families within the 24 communities in our jurisdiction. Our goal is to build a movement of unions and workers to advocate for working family issues in city and town halls throughout Greater Boston. The Greater Boston Labor Council also seeks to reach out to progressive allies within our communities to form coalitions to advance the cause of economic justice. Through our Committee on Political Education (COPE), the Greater Boston Labor Council is actively engaged in the political process. We endorse and campaign for candidates for municipal office who are supportive of the needs of union members and working families.
Good union jobs mean stronger communities. Union workers earn 28 percent more than nonunion workers and are more likely to receive health care and pension benefits than those without a union. In 2004, median weekly earnings for full-time union wage and salary workers were $781, compared with $612 for their nonunion counterparts. Unions lead the fight today for better lives for working people, such as through expanded family and medical leave, improved safety and health protections and fair-trade agreements that lift the standard of living for workers all over the world. Unions have made life better for all working Americans by helping to pass laws ending child labor, establishing the eight-hour day, protecting workers' safety and health and helping create Social Security, unemployment insurance and the minimum wage, for example. Today, thousands of workers want to join unions. But most employers fight workers' efforts to come together by intimidating, harassing and threatening them. In response, workers are reaching out to their communities for help exercising their freedom to improve their lives.
The Greater Boston Labor Council serves the communities of: Arlington | Belmont | Boston | Brookline | Cambridge | Chelsea | Everett | Lexington | Lincoln | Malden | Medford | Melrose | Needham | Newton | Revere | Somerville | Stoneham | Waltham | Watertown | Wellesley | Weston | Winchester | Winthrop | Woburn